Now Available: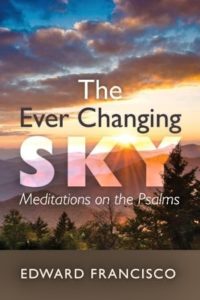 The Ever Changing Sky: Meditations on the Psalms
Resource Publishers, Eugene, Oregon
An Excerpt:
Psalm 11
"In the LORD put I my trust: how say ye to my soul, Flee as a bird to your mountain?"
According to an article in the newspaper, the bobwhite quail is shrinking in large numbers. The reason given is that "edges" are disappearing. Edges are those shady, wooded areas traditionally left uncultivated by farmers. Now the edges are being bulldozed by the servants of agribusiness who wish to utilize every inch of available land. The bobwhite no longer has a home — a place to rest. His song is threatened.
Outside my window in the darkness of spring, I hear my friend the bobwhite. I have heard him — only one of him — for two years, I  think. His song, a click and two shrill notes, never rests, but continues throughout the night. Comforted, sometimes, I wake to hear him. He lets me know that God is not afraid to sing in the dark. The bobwhite's melody and tempo never alter. He simply stops when morning rises in the east. Usually he sits in the same place all night. I shift in a hard bed, dreaming of turmoil. Once I dreamed I was whistling and woke to hear the bobwhite. That's when I knew he'd called my soul to the edges. I would miss him if he was gone. He lets me know it's all right to close my eyelids and listen to his call to rest.